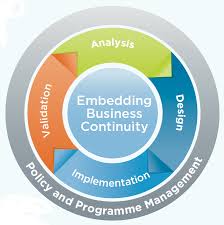 Contingency planning and disaster recovery have traditionally been IT-led responses to major disruptions that affected businesses.
However, over recent years there has been a growing recognition that they needed to become a business-led process that encompasses preparations for many forms of disruption.  As a result, Business Continuity Management (BCM) has become a recognised discipline, which, at its core, is based on the lifecycle shown below.
SCORE YOUR ORGANISATION
To help you assess your state of readiness, the Business Continuity Institute has prepared a short self-assessment questionnaire that covers seven key business areas. Check how ready you are by scoring your organisation.
Customers
Businesses need to prove that they can operate in all circumstances and BCM provides an opportunity to promote a well-managed business.  Some organisations have gone further with independent audits of their BCM system.
Have you got a plan to reduce the level of risk to your customers to a level they would be happy with?
Have you quantified the impact to your business of losing customers due to a major disruption?
Staff
People play a key role in recovering from a major disruption. Aside from a duty of care to your staff, if you cater for their needs then they can concentrate on keeping you in business when you need them most.
Do staff contracts give you the flexibility in terms of working hours, location and role to deal with a major disruption?
Have you ensured that staff contact details are up-to-date? Do all staff know what to do if the office becomes inaccessible?
When staff leave, what is the impact of any loss of skills and experience?
Cost savings
Cutting costs through reducing headcount, selling sites or cutting investment can reduce business resiliency.  BCM can help you understand this change. Companies can also use BCM to achieve savings on insurance premiums.
If you have had to make changes, have you considered the underlying vulnerability of the business to unexpected disruptions?
 Have you asked your insurance company whether they would offer a reduction in premium for having an audited business continuity plan?
Supply chain
Reliance on a single critical provider can be a risk. Understanding how they would recover from disruption, where you feature in their priorities, and the potential impact on you is important.
Are you reliant on a supplier providing you with a key service or product? Have you quantified the impact to your business of losing a critical supplier and how long it would take to find an alternative source?
 Do you know the current financial and general health of your important suppliers?
IT and telecoms
The failure of IT and telecommunication systems is one of the most frequent disruptions experienced by companies.
Have you ensured that all critical data is appropriately backed up and accessible to enable timely recovery?
Have you considered moving away from a dedicated IT infrastructure to hosted capacity and applications delivered over the Internet?
Do you know how robust the technologies are that your business relies on?
Sites and facilities
Many disruptions can lead to a loss of site access and some companies have arrangements in place to move to a temporary location during this disruption.
Have you identified alternative office options to use in case of a major disruption?
Do you have in place the ability for staff to continue to work remotely or from home?
Have you considered the impact of loss of facilities such as processing plant and other physical assets?
Reputation
Your company and brand reputation is valuable so handling a crisis competently and with confidence is important.
Have you considered all scenarios where negative stories could emerge?
Have you prepared your messages to reflect these scenarios and the need to communicate with all your stakeholders?
Are your senior spokespeople trained to communicate effectively?
HOW DID YOU SCORE?
Score 1 – 6
You probably need to develop a business continuity plan as a priority
Score 7 – 12
You are on the road to being prepared although more needs to be done
Score 13 – 18

Well done!

You appear to be well prepared although review any areas you may still be vulnerable in
Questionnaire courtesy of the Business Continuity Institute