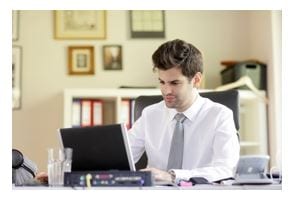 Here we look at organisations that have managed to achieve significant reductions in their CO2 emissions whilst also making cost savings on their utility bills.
A large regional law firm with four offices overhauled their Server infrastructure resulting in an estimated 20% reduction in energy costs and a commensurate decrease in carbon emissions.
Prior to the Server upgrade, the firm had been running a "mishmash" of Servers resulting from years of incremental growth in the demand for storage, new applications and increased Users.  A Virtual Server solution that allows multiple applications to run on one Server, coupled with an upgraded network that improved the connectivity between the four offices, was designed and implemented.
As a result of the rationalisation of Server hardware and associated air-conditioning, not only did the firm achieve on-going savings on their electricity bill, but freed up vital office space.  Additionally, prior to the upgrade, the existing Servers were typically working at 10% to 15% utilisation whereas the new Server is operating at closer to 70%, leaving adequate capacity for further demand.