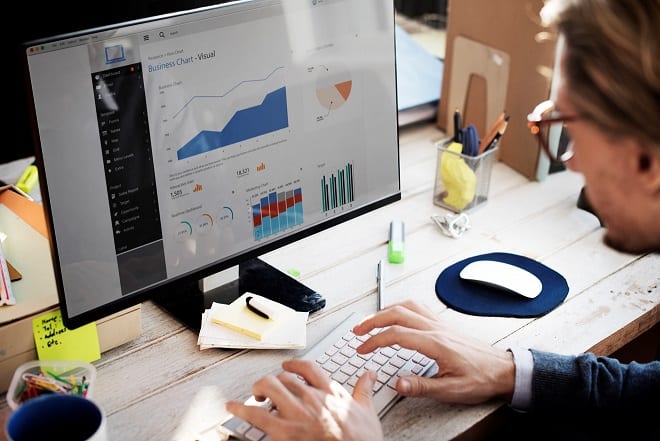 The birth of Big Data and the revolution of analytics
One of the most commonly heard buzzwords in business today is 'Big Data'.
Relevant across almost any industry, from banking and finance, healthcare and education to manufacturing and government, Big Data brings excellent insights from the ever-increasing volume of data created.  Importantly, it's as relevant for small and medium-sized enterprises (SMEs) as it is for giant conglomerates.
What is Big Data and why does it matter?
Big Data can help Companies to make more intuitive and well-informed business decisions by: –
Helping to predict what will most likely happen in future
Discovering surprising connections
Monitoring situations as they change
Highlighting the consequences of an action or choice
The ability to run different scenarios of your business plan and see the various outcomes of your choices will help you to see problems before they arise.  Also, to discover new business opportunities and ultimately plan more targeted strategies.
New connections will give a fresh perspective on your processes and the ability to analyse situations in 'real time' meaning you can use your available resources more efficiently.
Our growing digital footprint
One of the effects of the digital revolution is that we now create and collect data from a huge and constantly growing number of sources: –
Social media posts and interactions
Digital photos and videos
Retail transaction records
GPS mapping
Internet searches
Mobile phone use
Through multiple mediums businesses can access and create content faster than ever.  90% of data in the world was indeed created during the last 2 years.
The engine behind Big Data
Transformation of regular data into Big Data is down to advancements in technology.  The software, apps and tools at our disposal that enable us to analyse such volumes of valuable information have resulted in a revolution in business insights, decisions and strategy.
Big Data is only as 'big' as the data analytics solution that is behind it.  By using the data that they generate and feeding them through data analytics tools, companies can begin to understand their own business better, and make decisions to boost efficiency.
THE HISTORY OF DATA ANALYTICS
1950s
The collection of data and analysis was basic during the 1950's compared to today's standards.  A manual process involved reading and sorting through many documents and the inputting of relevant information into physical spreadsheets.
1980s -1990s
In the 1980's and 1990's productivity and business analysis received a major boost.  This boost was due to the advent of Microsoft Excel spreadsheets, which were digitised and semi-automated.
2000 to present
The introduction of specific business intelligence tools increases the clout and scope of data analysis.  Data visualisation tools places large amounts of data into easily digestible visual forms so that patterns and trends can be identified.