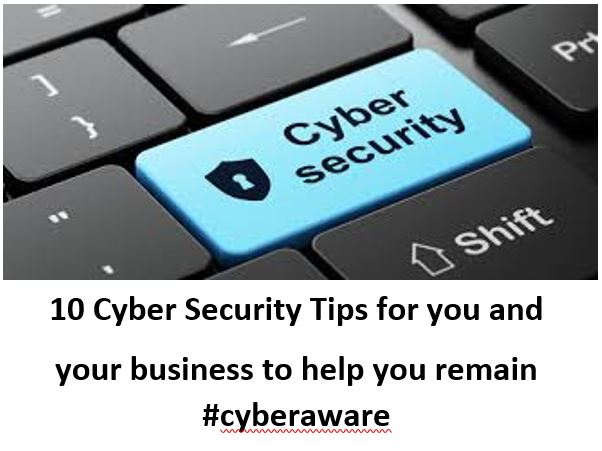 10 Cyber Security Tips for you
It only takes one significant cyber-attack to potentially cripple a business or at least wipe a large proportion of their profit away. Below are 10 Cyber Security tips for you and your business to help you remain #cyberaware.
1. Train your employees
Establish up to date security practices and policies for all employees.
2 Protect your systems
Be sure to install the latest software updates to protect against online threats. Carry out inside-out and outside-in penetration testing.
3. Provide firewall security
Correctly configure Firewalls for security purposes.
4. Don't forget mobile devices
Provide adequate safeguards and reporting procedures for laptops, tablets and smartphones if lost or stolen.
5. Backup
Backup critical data regularly to a secure off-site location.
6. Control physical access
Secure building entry points, consider CCTV installation.
7. Secure your Wi-Fi
Make sure Wi-Fi connections are secure and encrypted. Always provide a secure, separate guest network for all visitors
8. Payment cards
Validation and anti-fraud systems must be in place and your are fully PCI compliant.
9. Restrict employee rights
Only give staff access according to the need for their job role.
10. Password policy
Set up a policy to use unique passwords which are changed at pre-set times. Consider implementing multi-level access authentication to highly sensitive systems.
Further information can be found here