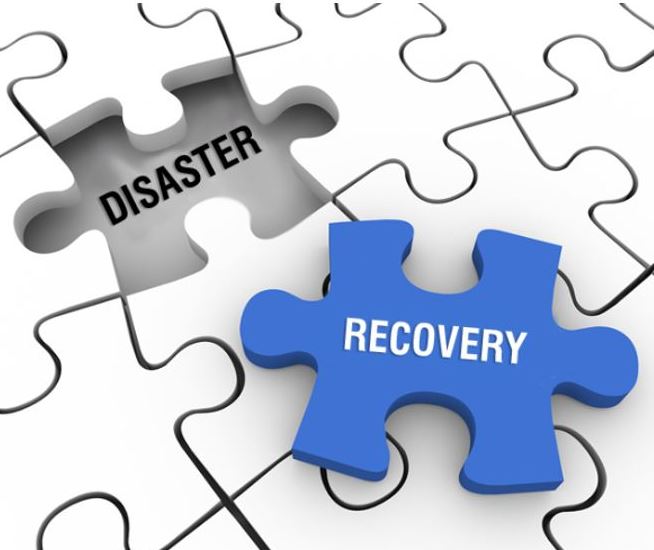 Downtime costs money!
Time to consider Disaster Recovery. Ever thought how your business would recover in the event of a disaster?  Fire and Flood are two "f" words that come to mind when you think about your business being destroyed.
However, we can't help to re-plaster the walls or redecorate, but we can help you plan what to do in the event of the worst, happening.  We can look at how you can re-establish your network and get you back up and running as soon as you can and how we can restore from your backup and what equipment you may need.
Whilst this is the most extreme situation, we look into each and every system to see what preventative measures can be employed to ensure that something as short as a small power cut doesn't cause a catastrophe.
We assess each system from all potential risk angles. Including not only the potential physical risks, but those from personnel and hackers too. Working with you, we can aim to protect your Company in a time of need and get you back on your feet as soon as possible.
In today's transaction-intensive world, Companies that can tolerate data loss between the time of their last backup and the time of a disaster are getting increasingly hard to find.
System outages are both unpredictable and in many cases unavoidable, with serious consequences on your ability to do business.  Downtime, (whether planned or unplanned) may cause your Company to grind to a halt.
According to the Contingency Planning Research and Strategic Research Corporation, 43% of Companies experiencing disaster never re-open and 29% close within 2 years.  Are you prepared to take this risk?
Disaster Recovery Plan
Having an IT Disaster Recovery Plan in place is almost like having an insurance policy for your company data.  If your data was destroyed through fire, flood, theft, data corruption and equipment failure, your vital Company information can be restored quickly and efficiently to have you back up and running in the shortest time possible.
Potential threats can be identified with a good IT Disaster Recovery Plan, recognising critical equipment and assets thus prioritizing their protection. It will protect your network from security threats such as hacking, viruses or malware therefore, ensuring that all your Company data is backed up securely off-site, where it can be accessed and restored quickly in the event of a data loss.
A good IT Disaster Recovery Plan can also protect your voice communications by putting firm plans in place to keep you in contact with the outside world at all times.  If your main business line was out of order, or unusable then a Disaster Recovery Plan will ensure that all crucial contact numbers are quickly diverted.  Employees are able to make and receive calls from an alternative location using IP Telephony.
Having a Disaster Recovery Plan in place should be a high priority for any IT-dependent business. How many of us would struggle to work without our IT systems and equipment, so preparing for the unthinkable really does make good business sense.