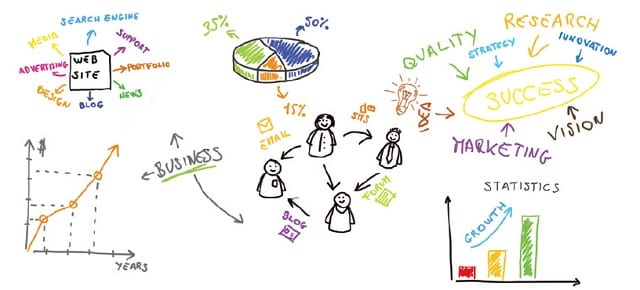 Customer Relationship Management (CRM)
For any business today, even non-profit organisations, retaining and winning customers has never been more critical to their future survival. Business has never been so fierce and Customers never so demanding and unpredictable. Would CRM help your business?
IT'S SURPRISING
Surprisingly, the majority of SMB's do not follow in the footsteps of their bigger brethren and have a more robust, systematic and methodical way of managing their Customers and Prospects. Instead, most rely on a mishmash of email trails, spreadsheets, accountancy records and personal memory.
But by building a richer, more in-depth understanding of your existing customers, you will not only be able to look after and sell more to them, but can also determine which are the more profitable ones, enabling you to focus your efforts and direct your marketing and sales towards gaining more of the same. After all, it typically costs six times more to win a new customer than to retain an existing one.
At the same time, keeping tabs on exactly who your prospects are will help keep the pipeline of new customers flowing, enabling your business to grow and prosper.
The right tool for the right job
Customer Relationship Management or CRM is the buzz phrase that encompasses the practice of managing a business's interaction with its customers, both current and future. It involves the processes, systems and organisational culture in managing, automating and synchronising sales, marketing and customer service and support.
Through a properly implemented CRM strategy, organisations can keep track of every customer interaction, whether it's a phone call, an email, a letter, a meeting or even a tweet. You can then analyse this valuable information to understand your customers better, getting closer to them and ultimately servicing and selling to them in a more profitable way. By bringing all your customer intelligence into one place and by utilising the powerful tools that CRM technology offers, every aspect of your customer-facing operation will be streamlined, made more efficient and cost effective, delivering a joined up approach where anyone in the organisation can see the latest situation on any customer.
CRM will also give you whole new insights into your business, enabling you to get to grips with the who, how, what and why behind your revenue streams and every day operating costs.
Is CRM for me?
There's no simple answer to this. However, a CRM system is likely to deliver tangible benefits in the vast majority of cases and its use is certainly not limited to call centre operations.
Increasingly, CRM is being adopted across all types of business. From professional services dealing with a smaller volume of higher value clients through to consumer-based businesses.
So the question is less 'would CRM help my business?' and more 'what functionality do I need from a CRM system?'
To help determine whether you would benefit from a CRM system, ask yourself a few questions, such as: –
Is all your contact information held in one central place?
In the last six months, do you know how many sales you've lost and why?
Do you know which sales people are under-performing and may need extra support?
If an employee leaves your business, do you have all the details of their customers?
Are you able to easily spot trends, e.g. customer support issues?
Can you be sure that all leads and prospects are being properly followed up?
Are you certain that everyone's keeping on top of communications with customers and prospects?
Do you know how effective your marketing campaigns are?
If you answered 'no' to some of the above, then it's likely that you should review your CRM practices
CRM IN A NUTSHELL
Having a CRM entails interaction that a company has with its Customers and Prospects, whether it is sales or service-related.
CRM is a business strategy that enables businesses to:
Understand their customers
Retain customers through better customer experience
Attract new customers
Win new clients and contracts, increasing profitability
Reduce customer management costs
Are you getting the most from your customers and prospects? Discuss with us how CRM could benefit your business.