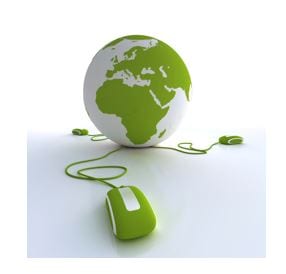 Leading the way with Green IT
Here we look at three Organisations that have managed to achieve significant reductions in their CO2 emissions.  Whilst also making cost savings on their utility bills, leading the way with Green IT.
Server Virtualisation delivers savings – Leading the way with Green IT
A large regional law firm with four offices overhauled their Server infrastructure.  This resulted in an estimated 20% reduction in energy costs and a commensurate decrease in carbon emissions.
Prior to the Server upgrade, the firm had been running a "mishmash" of Servers.  This resulted from years of incremental growth for storage, new applications and increased Users.  A Virtual Server solution allowed multiple applications to run on one Server.  Coupled with an upgraded network improving the connectivity between the four offices, was designed and implemented.
Because of the rationalisation of Server hardware and associated air-conditioning, the firm achieve on-going savings on their electricity bill.  At the same time, they could free up vital office space too.  Additionally, prior to the upgrade, the existing Servers were typically working at 10% to 15% utilisation.  Whereas the new Server is operating at closer to 70%, leaving adequate capacity for further demand.
The power to save on carbon – Leading the way with Green IT
A leading university managed to reduce its carbon emissions and energy costs by over 30% through proactively managing its IT portfolio.
As part of a wider initiative to reduce the university's total energy consumption and carbon emissions, the IT department put in place a Green IT project.  The first stage was to benchmark: –
its current energy usage
put in place management software
enable effective power management of its portfolio of over 2,500 PCs.
The majority of PCs were found to be left on overnight and when not in use.
Through a tighter regime of PC power configuration, proactive asset management, educating Users and replacement of inefficient equipment, the department could deliver significant results in short space of time, whilst also providing the flexibility so not to interfere with the business and research needs of the university's faculties and students.
Cloud reduces carbon emissions – Leading the way with Green IT
When a micro-renewables company employing 65 staff, including a large field sales force, decided to upgrade its IT infrastructure, it chose to move to a Cloud-based solution.  As well as providing a range of operation benefits a contributory factor in making this decision was that it wanted to 'lead by example' by becoming carbon neutral.
The move resulted in an approximate 25% reduction in carbon emissions compared to its legacy systems, including a large reduction in power consumption by switching from standard PCs to 'thin client' PCs and laptops.
The company made the most of the reduction in its carbon footprint through buying 'green electricity' and using its own renewable energy supplies (solar and wind).  It could close the gap and achieve its aim of being carbon neutral.  This, it has fully exploited through its marketing activities, resulting in a growth in sales, revenues and profitability.