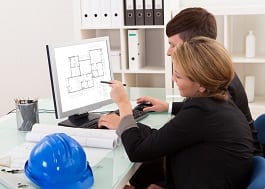 Making big data work for an SME
Having fewer employees and a modest budget compared to larger Companies doesn't mean you have access to less information.  Below is an example of a small-to-medium sized enterprise that is taking advantage of Big Data within their market.
The Company profile
Atrium, a London-based lighting designer has been steadily growing over the last few years.  As a result of this growth the quantity of information they are now collecting has grown significantly.
The focus for Atrium was finding a way to use this data to improve: –
Reporting
Recognise bottlenecks in their business processes
other barriers to promote further growth.
Essentially, they wanted to use the information to make better informed business decisions, helping to drive the business forward.
Their challenge
The way that Atrium works meant that they had multiple data systems all of which contain valuable information. The difficulty with this is that when trying to put together: –
Various data sources
Projected sales reports
Profit and loss or other financial figures
They had to navigate several data silos, making it more difficult to bring all their important and relevant information together in one place.  Manually filling in spreadsheets took up a considerable amount of time to create reports.
Along with the internal process, Atrium were also looking to improve their knowledge and understanding of the market so they could align themselves with it in a more targeted way.
Best way forward
Atrium decided their best way forward was to employ data visualisation and business intelligence tools that were dynamic enough to make sense of the high volume of data yet simple enough so everyone who needed to, could interact with and make sense of the data, in a way that encouraged better business decisions.
Data Analytics
The data analytics tools required no prior knowledge and Atrium could quickly build charts and dashboards with simple and intuitive orders and commands.
The Outcome
Directed by its sales, financial reports are an essential aspect of how Atrium's business survives and grows. Using data analytics tools has allowed Atrium to overcome information silos and bring together Big Data from areas of the business in a way that was not possible before.
In fact, they are so impressed with the power and potential of Big Data that they now intend to introduce it into additional areas of the business, such as warehousing and support.
At Atrium, the relationship between Big Data and business decisions seems to be growing closer every day.
Are you excited about the potential Big Data could have for your business?  Get in touch with us today