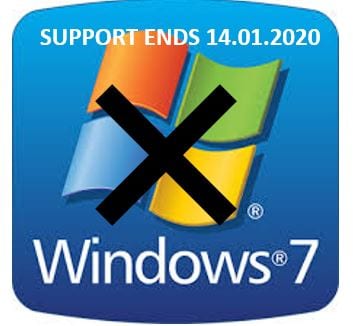 RIP Windows 7 – what happens next?
Support for Microsoft Windows 7, a much-loved computer operating system for the last 10 years, where it served businesses and homes all over the world, has ended.
Windows 7 surpassed adoption of later operating systems such as Windows 8 and Windows 8.1 but, unfortunately, this love affair is over. After 10 years Microsoft decided enough is enough and retired the operating system on the 14th of January 2020. So, what does this mean? What happens next?
As of 14th January, Microsoft stopped releasing updates for the operating system. If the system is not being updated, then we might find that things are more prone to bugs and potential breaches in security.
As a lot of people have upgraded to the latest Microsoft Operating, system application builders are ensuring that all their latest products are compatible with the latest operating system. You may find that any new software you install is not compatible with Windows 7.
But the biggest risk is that the computers become prone to attack from nefarious entities. As each day, week and month goes past, the system will become increasingly vulnerable as updates will no longer be released to patch security vulnerabilities.
So what can be done about it?
In 2015, Microsoft released Windows 10. Windows 10 is the very latest, and last operating system from Microsoft. Microsoft have said that they will continue to develop Windows 10 by releasing feature updates regularly, and security updates as and when required.
There are two ways which you could get Windows 10. The first is by way of an upgrade, but this would require you to have compatible hardware and an electronic upgrade license. As a rule, we would suggest anything older than 5 years is not compatible.
The second way would be to look at replacing the computer. By replacing the computer, you will be running newer hardware, which should give you a noticeable performance boost.
Ahead of upgrading, there are some general precautions you can take to protect your data.
Ensure you have a good anti-virus and firewall software installed, and maintain safe practices – avoid any untrusted and insecure websites, avoid clicking on any advertisements (these can be used to distribute malware), and be highly suspicious about links and attachments in emails. If the worst does happen, ensure you have your business' files backed-up daily so that you can wipe an infected drive and restore things straight away.
Even if your business PCs are up to date, ensure your staff who might work from home on personal machines also take the same precautions.
These are only short-term solutions, however, as third party software will also end support in the coming months, opening up further vulnerabilities to hackers and malware.
If you are still running Microsoft Windows 7 then you need to update to Windows 10 as soon as possible to ensure that your systems are as secure as they can be, and you have access to the latest software.
If you would like to know more call 0300 2020 340 to speak to one of the team.