Stockport Frogs
Today marks the official launch of the Stockport Frogs. Amshire are proud to help Totally Stockport in the launch of the art trail in Stockport over the summer.
The giant frogs have leapt onto giant lily pads strategically located throughout Stockport town centre, creating an engaging and vibrant, outdoor art trail with the view of attracting thousands of people from across the region. People from all ages and backgrounds, from businesses, schools and community groups are expected to be attracted into Stockport to discover the trail and explore the town to seek out all of the frogs.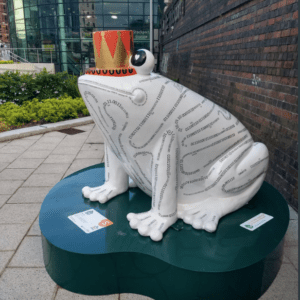 The project has been designed to increase town centre footfall, to promote Stockport and to support local youth communities – tomorrow's giant leapers.
Each frog is unique, designed by local businesses, schools and community groups.
Once the event ends in October the Frogs will be auctioned for charity in order to create a Giant Leap legacy fund.
The trail runs from 29th June until 28th September 2019. Pickup you free frog-tastic guide in and around Stockport town centre.