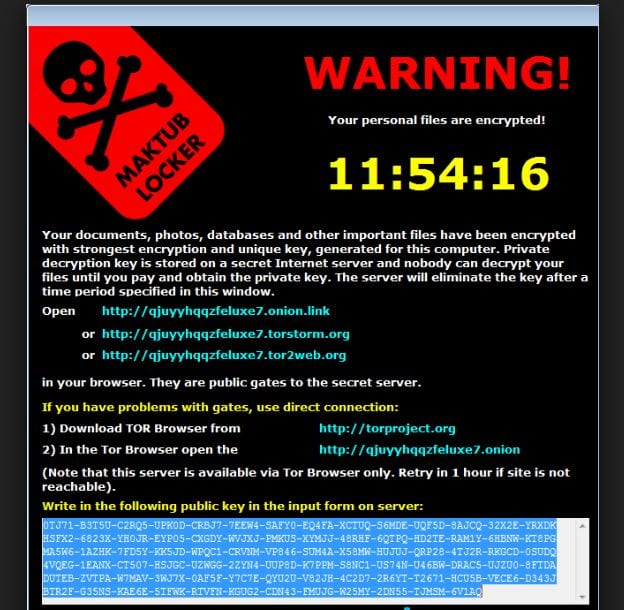 The dangers of Ransomware infections
British people paid over £4.5million in Ransomware infections demands to cyber criminals in the last year alone.  It is quite frightening that Malware is still widespread with such devastating results.  See our cyber security tips for you and your business below for further guidance.
Ransomware infections
Ransomware is a type of malware that is currently spreading across the internet.  It threatens to destroy victims files and documents.  These actions infect your computer giving cyber-criminals the ability to remotely lock down files on a victim's computer and mobile devices, from a remote location.
When Ransomware encrypts your files you can no longer gain access to the data stored.  This affects Word and Excel files, together with Sage and other data and programs.
The malware then informs you that the only way to unlock these files is to pay a 'ransom' to the cybercriminal!  Often the only usable part of the computer is the number keypad to enter a PIN making a payment to the criminals!
Protection
Perhaps the best way to recover from a Ransomware infection is not only not pay the ransom but recover your files from backups.
However, you can protect yourself from such malware infections by ensuring that your anti-virus software is up to date.
If you have been a victim of ransomware, report it to Action Fraud immediately
10 Cybersecurity Tips for you and your business
Train employees: Establish up to date security practices and policies for all employees
Protect your systems: Be sure to install the latest software updates
Firewall security: Correct configuration is a must for security purposes
Mobile devices: All laptops, tablets and smartphones must have adequate safeguards
Backups: Ensure all critical data is regularly backed up to a secure off-site location
Control access: Consider using CCTV installation
Wi-Fi: Make sure Wi-Fi connections are secure and encrypted.  Always provide a secure, separate guest network for all visitors.
Payment cards: Validation and anti-fraud systems must be in place and you are fully PCI compliant.
Restrict employee rights: Only give staff access according to the need for their job role
Password policy: Set up a unique password policy.  Consider implementing multi-level access authentication to highly sensitive systems.