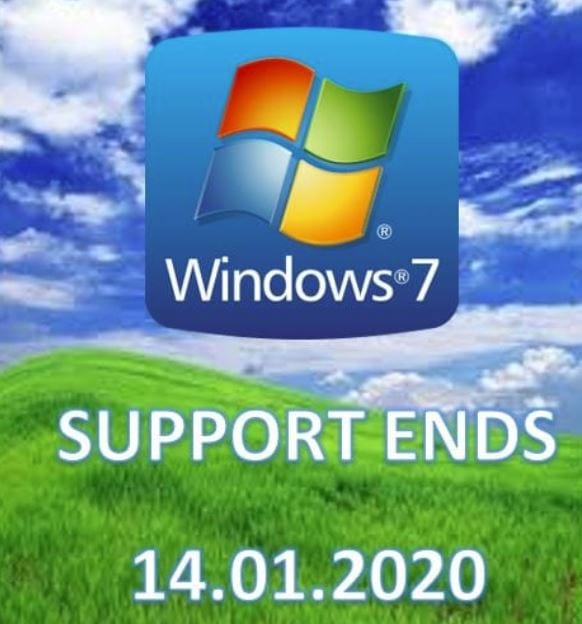 Windows 7 was released in October 2009 with Microsoft making a commitment to supply 10-years of product support.  However, Microsoft have decided to end extended support for Windows 7 Operating system on 14th January 2020.  In tech terms, known as 'end-of-life' (EOL) for the software.
The end of life for a software product can be a significant challenge for any business.  End of life does not mean that Windows 7 will stop working, but it does mean that Microsoft will stop developing the product which in turn means no more security updates that help to protect your PC.
Staying with Windows 7 means you will be extremely vulnerable to exploits and bugs.
How to Prepare for Windows 7 EOL
Machines currently running Windows 7, will need to be identified.  Once you know what you have, it's time to think about upgrading and/or replacing.  Upgrading to a new Operating System, needs careful planning, especially if you have several machines and systems to assess.
Requirements to do so: –
Identify machines requiring an upgrade and/or replacement.
Ensure that any machines still running Windows 7 have Service Pack 1 installed.
Develop a timeline and budget for upgrades and replacements.
Ensure security controls are in place to keep critical systems separated from Windows 7 (or older) machines that cannot be upgraded or removed
Create a plan to train employees on the new system.
Microsoft's recommendation is to move to Windows 10 sometime prior to January 2020 to avoid a situation where you may need service and/or support that is no longer available.
When will support for Windows 10 end?
Effectively Windows 10 should be the 'last' Windows according to Microsoft.  There should be no need to upgrade to a new operating system.   Incremental updates will happen behind the scenes without any major upheaval.  Whilst Windows 10 may look completely different a few years' time it will have 'morphed' in the background with no costly, difficult upgrades.